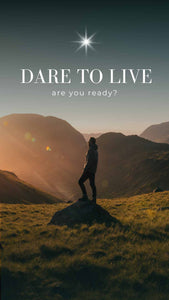 Dare to Live-5 Sport Day Challenge
The purpose of IBLV is to inspire you to become the person you are meant to be. I truly believe that we can only uncover what we are capable when we are put in environments that are out of our comfort zones. That is why I started the Dare to Live Challenges. The goal with these challenges is to give you a space and an opportunity to uncover your true potential. 
On 05/28/23 the IBLV Family will be attempting a 5 sport day! Below are the sports, times, and locations of each sport:
1) Hike 2 miles up Mt. Hood. We will start climbing at 3:30am and hope to reach our mark by sunrise (5:30am). We will start our climb at the Timberline Lodge (27500 E Timberline RD, Government Camp, OR 97028). Most of us will camp in our cars at the Timberline Lodge parking lot. You can join us or meet us there at 3am.
2) Snowboard/Ski down back to the Timberline Lodge. Keep in mind, both the hike and the ride down can be difficult and intimidating for anyone who is new to mountaineering and winter sports. If you are a beginner, we suggest you skip this sport for your safety! You can still join us in camp and enjoy a night out in the mountain. 
3) Mountain biking on Post Canyon. The goal is to meet at the Family Man trailhead at 8:15am and take off by 8:30am. The location is Riordan Hill Dr, Hood River, OR 97031. 
4) Murph. For those who do not know, Murph is a workout done in memorial of our fallen soldiers. The workout is a 1 mile run, 100 pullups, 200 pushups, 300 air squats, 1 mile run. We will splits this into 1 mile run, 10 rounds of 5 pullups/10 pushups/15 air squats, 1 mile run. We will meet at The Power Station gym at 12:00pm and start the workout by 12:30pm. The location is 1813 Cascade Ave, Hood River OR 97031.
5) Our last sport will be paddle boarding/kayaking. We hope to be out in the water by 2:30pm. We will meet at The Gorge Paddling Center (101 N 1st St, Hood River, OR 97031). If you do not have a paddle board or kayak, you can rent one. 
After the last sport, we will talk about a place to go out and celebrate! Most of us will be tired so the toughest sport will be who can stay up and party afterwards. 
Things you will need for this challenge
Winter coat, pants, and gloves.
Trekking poles.
Backpack with ability to strap your snowboard/skiis.
Snowboard/Skiis. You can rent your boots and gear for about $30 at Dougs Sport. 
Water and electrolytes!
Food (protein, carbs, simple sugars).
Hood or beenie to cover your head from the cold.
Extra clothes.
Mountain Bike (can be rented at Mountain View in Hood River. We suggest you rent it the day before).
Mountain bike helmet.
Paddle board/kayak. Can be rented for $20 at our meeting location. 
---